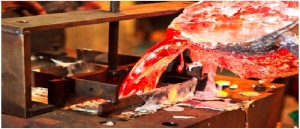 Here at Ashley Engineering we produce Gravity Diecastings from a range of Aluminium Alloys.
These castings are preferred when equipment costs are relatively low and mould designs are simple without the need of applied pressure. A good surface texture can be achieved and set up times are quick. Simple 3D shapes are better suited and the higher percentage of waste material from this process can be recycled back into the mix. Smaller batches are more typical for this method of diecasting.
We are fully equipped to produce gravity diecastings from weights ranging from 5kg to 60kg. All dies are made to our customers' specification and are maintained in-house in our fully equipped Tool Room.
If you would like to know more about gravity die casting please contact us